PIETRO'S PIZZA: BEAVERTON'S FAMILY FRIENDLY RESTAURANT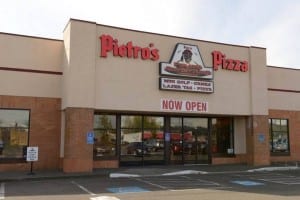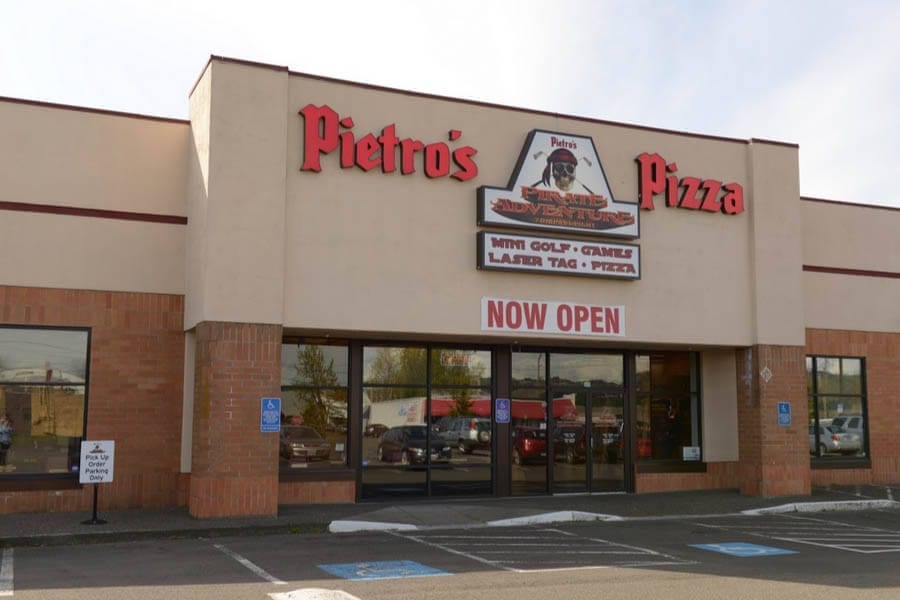 Join the fun at Pietro's Pizza and Pirate Adventure in Beaverton. Whether you just want to drop in and grab a slice or you're looking for the ultimate in kids' party places, Pietro's is ready to help you smile (or walk the plank)! While Pietro's is known for pizza and parties, they offer much more, such as delectable pasta, breadsticks, sandwiches, salads, and wings. Get hungry: check out their menu. And if the food isn't enough to convince your family to head to Pietro's, their pirate themed adventures will settle any arrrr-gu-ments about where to grab some grub.
Best Pizza in Beaverton
Pietro's is a family friendly restaurant in Beaverton, offering a sensational selection of pizza, including gluten free pizza. Take a break and escape in this family friendly restaurant; which  features a pirate ship for exciting ambiance….naturally!
Feeling kinda cozy and don't wanna go anywhere? Call the pirate express, ok we don't really call it that but wouldn't it be great if we did?! Pietro's understands how it's often easier to spend the night in. Stay comfy in your pajamas, because Pietro's also provides pizza delivery in Beaverton. Pietro's has been around since 1957, and they've taken that time to learn what pizza lovers like most: quality food, reasonable prices, and kid-friendly options.
Before you order, make sure to stake out Pietro's specials page. We'd also highly recommend checking out the Pietro's Pizza Birthday and Anniversary club too, you'll get great offers year round PLUS free pizza meals on those special days so sign the whole family up for the birthday perks at once.
Give them a call today to have your order delivered—and don't forget the "just for kids" menu for the little pizza pirates in your life.
Have a Pizza Party in Beaverton
Pietro's has been all about establishing a delicious and fun pizza experience since its founding, and they invite you to be part of that wacky, wild experience.
Pick Pietro's—one of the most kid friendly restaurants in Beaverton—to host your pizza party. In addition to some of the best slices around, Pietro's Pizza party packages can include laser tag, arcade games, and mini golf. As a PDX Parent Pick, Pietro's offers themed birthday parties. Whether your kids are into Disney Princesses, pirates, superheroes, Minions, and more, they'll have a blast at Pietro's. Want something a bit tamer? They can handle general birthday party celebrations as well. No matter what you select, Pietro's loves serving pizza gremlins and their parents.
In addition to being the top birthday party place in Beaverton, Pietro's enjoys hosting scouting groups, soccer clubs, baseball team celebrations, basketball team parties, and more. Parents can have fun, too—Pietro's holds up to 300 guests.
Party packages start as low as $7.50 per child, and that includes a theme. (Yep, even Star Wars!)While the kids are celebrating with fun and games, parents can enjoy adult beverages responsibly, like any pirate with responsibilities would.
Pirate Adventure – Laser Tag Mini-Golf And Arcades in Beaverton
Looking for a laser tag adventure in the Portland / Beaverton area? You'll find laser tag in Beaverton, ready to entertain a bevy of children—or poised for an after-work adventure to relieve stress. Laser tag is a safe way to get back at your friend or family member or find some playful fun—all under the spectacle of a black light environment with flashing lights.
Pietro's features a gallery of arcade games loved by kids and adults alike. Shoot hoops, take a chance, select a more contemporary video game, or enjoy something kinda classic, all while collecting your ticket prizes to redeem the spoils of your winnings later — it's all waiting for you at Pietro's. And yes, there's even a pirate ship.
Get ready for some mini golf games! At Pietro's Pizza and Pirate Adventure, the mini golf entertainment is off the hook. Mini golf is a great option for kids' birthday parties, taking the family out, or a cute date. No one will ever forget putt putt and piracy.
Hoist the sails for your next epic family adventure, because Pietro's is one of the most kid friendly restaurants in Beaverton. At Pietro's, all young mateys deserve the best chance to have fun adventures.
Set sale for fun—grab a gift certificate, book your kid's birthday party, and grab some of the best grub in the Portland area, all served with a side of fun. Visit Pietro's today.
Community Giving in Beaverton
Pietro's is also heavily involved in community events and giving. They're happy to consider car rallies, sponsorships, auction donations, and fundraiser nights. When it's time to give back, Pietro's is here to support your efforts, ready to help you manifest some doubloons for the cause. Check out our Fundraiser page to learn more.
13281 SW Canyon Rd.
Beaverton, OR 97005 Map It
Tel: 503-536-7600
Email | Order Online
Hours:
Sun-Thur: 11am – 11pm
Fri-Sat: 11am -12mid