PIETRO'S PIZZA: SALEM'S FAMILY FRIENDLY RESTAURANT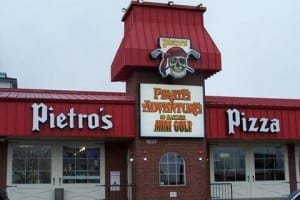 At Pietro's, we serve the best pizza in Salem along with all-ages entertainment that you won't find anywhere else. We make our famous thin-crust pizza using only the freshest ingredients, just like we did when we started way back in 1957. And with our speedy pizza delivery options, you can enjoy Salem's best pizza anytime, right in your home!
A trip to Pietro's is about more than eating great pizza―it's about making great family memories. Our Salem location offers kids' birthday parties, Pirate Adventure Mini Golf and Laser Tag, as well as our famous Gallery of Games. With so many options, there's always something fun for everyone.
The Kids' Party Place
Plan your kid's birthday party at Pietro's in Salem and let us take care of the rest. Our pizza birthday party packages start at just $7.50 per child and come with a kid's one-topping pizza, soft drink, ice cream cone, four game tokens, and themed table decorations. We'll put together an exciting themed pizza party for your child's special day, with options including favorites like Star Wars, Frozen, Spiderman, Minions, Disney Princesses, and of course, Pirates!
Get the Swashbuckler package for just $3 more, and each party member will receive a pirate hat, eyepatch, and toy sword for the full pirate experience. Looking for mini golf and laser tag? Get $1 off for every player with the purchase of a Kid's Birthday Package.
Pietro's also offers party packages for other events like sports team celebrations, corporate groups, and non-profit organizations. Learn more about our party packages and make your reservation today by clicking here.
Serve Up Some Fun with Mini Golf, Laser Tag, and Arcade Games!
Our delicious pizza is just one reason that Pietro's is a Salem family favorite. That's because we've got more entertainment options than you can shake a peg leg at. Once you've had something to eat, no visit to Pietro's is complete without a trip to our Gallery of Games. Your kids will love racing cars, shooting hoops, winning tickets, and redeeming them for cool prizes. We've got the best selection of family-friendly arcade games for hours of fun.
Even more excitement awaits as you set sail for our Pirate Adventure Mini Golf. Our modern blacklight mini golf course is full of detailed figures and eye-popping artwork which springs to life using 3D glasses and digital animations. With its colorful environment and imaginative holes, Pietro's mini golf offers a fun challenge for parents and children alike. You might even get a hole in one!
Once you've got your sea legs, head over to our Pirate Adventure Laser Tag for a swashbuckling adventure that your kids will want to play again and again. Players must team up and battle their way through an amazing pirate ship arena to steal their opponents' treasure, all while defending their own. Duck behind barrels and sails, dodge pirates, and win the day! Laser tag provides high-seas thrills straight out of the movies.
You can read more about all of our entertainment options here.
Great Family Memories are Always Near
If you're looking for family fun and the best pizza in Salem, come down to Pietro's Pizza. We're located just off I-5 at the Market Street exit and are open seven days a week (11 am-11 pm Sunday through Thursday; 11 am-midnight Friday and Saturday).
Pizza delivery Salem
Did we mention that we deliver? Get our famous pizza, chicken wings, sandwiches, salads, and gluten-free pizza delivered right to your door by calling 503-659-7770 or by ordering online!
If you're not in Salem, check out our other locations in Beaverton, Milwaukie, and Hood
1637 Hawthorne NE
Salem, OR 97301 Map It
Tel: 503-364-0128
Email | Order Online
Hours:
Sun–Thur 11AM – 10PM
Friday–Saturday 11AM – 10PM