Pietro's Pizza: Your family friendly restaurant in hood river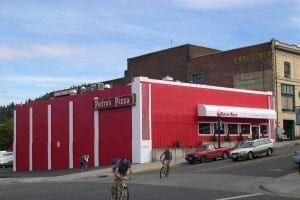 A classic favorite among locals and a must-taste for visitors, Pietro's Pizza has been around since 1957. Pietro's Pizza combines the casual atmosphere of a pizza parlor with the family friendly excitement of fun and games. And as much as they're all about the cheese, they won't string you along: Pietro's is serious about delicious food and family fun.
Pizza, Salad Bar, Pasta, Microbrew Beer & Wine – At Pietro's Pizza we got you covered
Nobody can top what you can put on your pizza at Pietro's— choose from one of the ready to build options like the famous Taco Pizza or Hula Loola or let Pietro's terrific tasting toppings can help you put together your own ideal pie creation.
From mouth watering chicken wings, garlic breadsticks potato wedges to pasta, sandwiches and soup, Pietro's offers more than just great pizza. They're known for fresh grinders and reasonably priced combos. They have vegetarian options and a kids menu (kids meals come with a small soft drink). If your kids like animal-shaped tenders and wabbit food (salad, but better!), they'll love Pietro's.
There's even gluten free pizza and vegetarian pizza options.  Pietro's features a "Just for Kids" menu as well; and yes, it's available for delivery.
We know, when you think of 'family restaurants near me,' you're probably not thinking about craft beers and quality wine options—but we'd like to help you shift that perspective. So, if you enjoy a good selection of wine, beer— and yes, microbrews,  you'll love Pietro's. The best pizza in Hood River is only that much better with quality brew, just be sure to imbibe responsibly.
Say "Cheese" For Pizza Delivery
Got a craving for some pizza in the Hood River area? No problem! Known as one of the most family friendly restaurants in Hood River, Pietro's also offers its customers delivery. (Don't worry—it's not laziness! You want convenience, and they're here to make it happen.) So for pronto pizza delivery in Hood River, give Pietro's a call!
Pietro's Pizza is your go to Kid Friendly Restaurants in Hood River
Family fun is the name of the game at Pietro's, and nothing's too cheesy for their menu! We love hosting families, and kid parties in Hood River are their specialty. Aside from being one of the best known family restaurants in Hood River, kids don't mind making the trip into town to experience a fun-tastic time at Pietro's. Whether it's for a family outing, a birthday party or a sports team celebration, we've got all the food and fun they need covered.
Pietro's is delighted to do themed parties and offer several different packages. From space missions to Minions, they'll make sure this kids party in Hood River is unforgettable. Make it the best kids party with the help of Pietro's.
Play Arcade Games in the Gallery of Games
How do you know Pietro's Pizza is the number one spot for family fun in Hood River? Wait 'til you see the Gallery of Games. Arcade action lines the walls, ready for families to explore the classics and find new favorites. When you compete in the Gallery of Games, you get tickets.
After crushing your family members (or rather, working with them to defeat common video game foes!), you can turn your tickets in for all sorts of cool prizes—as if delicious pizza wasn't enough!
The gallery includes many types of games—even rides! Your family won't be disappointed (or bored). These games test skill and luck, and always result in endless fun. It's the best use of kids' boundless energy. Popular games include HOOPS, Typhoon, and Wheel of Fortune.
Pietro's Loves a Good Cause
Do you want to have a fundraiser for a local sports team or scouting troop? Pietro's is all about supporting your cause. They love the local PDX community and enjoy helping by hosting fundraising nights, providing auction donations, allowing car rallies, and sponsoring local sports teams. Don't be shy: call Pietro's Pizza Hood River to lend your crew a hand.
Ready for adventure? Grab your favorite gaming geek and head on out to Pietro's in Hood River. They've got games, pints, and loads of fun for your family of pizza monsters. Let's go!
HOOD RIVER
107 2nd St
Hood River, OR 97031 Map It
Tel: (541) 386-1606
Email | Order Online
Hours:
Sun–Thur 11AM – 10PM
Friday–Saturday 11AM – 10PM