Pietro's Pizza is Your Family Friendly Restaurant in Portland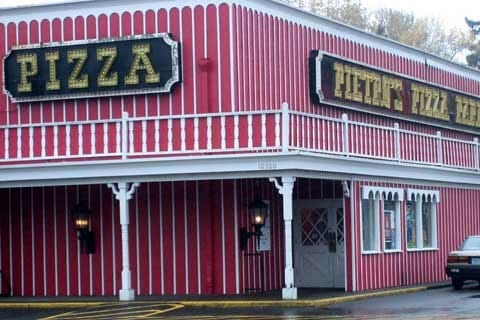 For over 50 years, Pietro's has worked to provide Portland and Milwaukie with the things that matter most: family, friends, and, of course, great pizza! We're here to help you come together for special occasions or just a fun weeknight with your family. Next time you're looking for a family fun restaurant in Portland, look no further than one of our great Pietro's locations. Give us a call at 503-659-7770 or order online today!
If you're not in Milwaukie, check out our other locations in Beaverton, Salem, and Hood River.
The Kid-Friendly Restaurant Milwaukie Loves
At Pietro's, we're dedicated to bringing people together for food and fun—from our family to yours. When it comes to family-friendly restaurants, Portland knows that Pietro's is the place to be. There's something for everyone here, from our exciting Gallery of Games to our adult-friendly list of craft beers and wines. Whether you're putting together an extra-special themed birthday pizza party for your child, a corporate event for your team, or just a family night out, Pietro's will help you make memories with the people you care about most.
The Best Pizza in Milwaukie
If you're looking for the best pizza in Portland, then you're looking for Pietro's Pizza. We've been making our famous thin-crust pizza since 1957, and there's a reason it's been Portland's favorite pizza for all those years. We use the freshest ingredients for our dough and sauce, so you know that you're always getting the best.
And don't forget about toppings! We've got all your favorites, from pepperoni and mushrooms to Hawaiian and more! We even offer gluten-free pizza, so everyone can enjoy a fun night out at Pietro's. Keep an eye out for some great deals from our regular specials and combos.
Pizza Delivery Milwaukie Portland area
Planning a fun night at home instead? We've got you covered there, too! With Pietro's lightning-fast pizza delivery, Milwaukie families can enjoy our thin-crust pizza anytime, anywhere. We'll deliver everything on our menu, including our delicious buffalo chicken wings, salads, and, of course, pizza! Just give us a call with you address to confirm we can deliver to your area.
Come Play! Arcade Games for Kids of all ages
When you come to Pietro's, you get more than just great pizza. You also get to enjoy our kid-friendly Gallery of Games. Kids love our great collection of arcade games, where they can be race car drivers or basketball stars with their friends and family. Your kids will have a blast collecting tickets to celebrate their achievements. At the end of the night, they can turn in their tickets for great prizes like toys and candy. Who knows, you might even win big yourself!
Plan your Pizza Party With Pietro's
Did you know that we're special event specialists? Young or just young at heart, we'd love to host you for your special occasion pizza party!  And when it comes to planning a kids' pizza party, Milwaukie families know that they can count on Pietro's to give their child a party they'll remember.
Choose from a great selection of themes, including kids' favorites like Star Wars, Spiderman, Frozen, Disney Princesses, Minions, and, of course, Pirates! Our birthday parties are a great value, starting at just $7.50 per child. Each package comes with a kid's one-topping pizza, a soft drink, an ice cream cone, and themed table decorations your child will love. We'll even give partiers four game tokens each to get them started in our Gallery of Games.
Want more? You can turn your party into a Swashbuckler package for just $3 more per person, and each child will receive a pirate hat, eyepatch, and toy sword. You won't believe how much fun your kids will have playing pirates with their friends.
Make your next pizza party a Pietro's Pizza party. Learn more about our party packages or just get it booked right here.
Fundraisers and Corporate Events
We aren't just birthday party experts. Pietro's Pizza is a great choice for any special event, including sports team celebrations, corporate groups, and non-profits. Bond with your team or celebrate a special occasion over some of our classic pizza.
Here at Pietro's, we strive to serve our communities in every way that we can. We love to help out with fundraisers, whether that means hosting a charity event, donating pizzas for an auction, or providing food for non-profit occasions. If you have a community event coming up, let us know!
Milwaukie
10300 S.E. Main St
Milwaukie, OR 97222 Map It
Tel: 503-659-7770
Email | Order Online
Hours:
Sun–Thur 11AM – 10PM
Friday–Saturday 11AM – 10PM